Welcome to Santana Village Park website. Santana Village Park is the new name for Santana Park, now owned by a private, non-profit Corporation. In other words, Santana Village Park is now "A Neighborhood Owned Resource." The 4.1 acre park is located at 850 Shawnee Drive SE. Shawnee is a short street that runs between Shenandoah Drive SE and Pennsylvania Drive SE just east of Salem's city limits.
We have lots of good ideas (Park Projects) for improving Santana Village Park. Some that will cost money and others we can accomplish with neighbors and volunteers like yourself that wish to make the park a better place.

GET INVOLVED
If you wish to Get Involved and/or Keep Up With What's Going On with Santana Village Park, please visit the Get Involved Page of this web site.
Together and as a community, we can accomplish great things!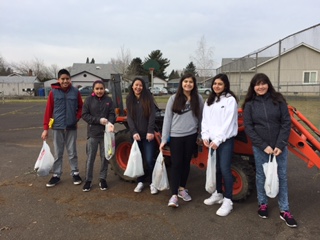 Many thanks to the six students and their supervising teacher from Houck Middle School, who gave the park a good cleaning Saturday (January 28, 2017). They and other Houck students intend to continue being "park partners" every few weeks or so for the foreseeable future. Many thanks to the Houck Middle School community for making this your park neighborhood too!
/s Santana Village Board of Directors


If you'd like to talk to us -- for any reason -- just email to: info@SantanaVillagePark.org